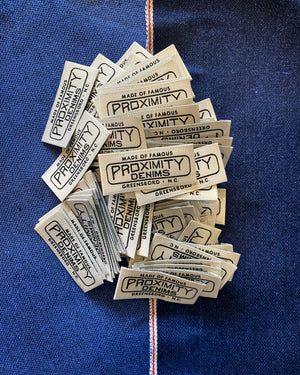 HOMETOWN HOMAGE
---
THE DENIM | GREENSBORO, NORTH CAROLINA
Back in 2014 when this whole little idea of STS came to be, I made the decision to create American-made goods, with American made materials. At the forefront of this was working with selvage denim from the legendary Cone Denim White Oak Plant in Greensboro "Jeansboro" North Carolina. The decision was easy and I immediately fell in love with the 1968 style, a dry goods classic. I made the first sample 5-pocket jeans with it and never looked back. All future production works were to include this denim and be a part of the Heritage story that is Stock Tank Supply.
As it turned out Cone Denim had other plans for the White Oak Plant and shut down operations there in early 2018 after a closure announcement the previous Fall. They sold the building and its contents, clearing the legendary wooden floors of the White Oak plant and ended a 113 year span of weaving quality American-made selvage denim. Well, that sure threw a wrench into the plans and I sourced as much fabric from White Oak as I could afford to keep the dream alive. Unfortunately, that yardage only goes so far and I made the final productions with the 1968 selvage, forever coined our Heritage Originals collections, in mid 2020. Now what's a guy to do?


In Late 2021, I became privy to something beautiful that was taking place right under our indigo-sniffing noses. Two of the Draper X3 shuttle looms were actually still at the White Oak Plant and some fine folk had created a non-profit to preserve its legacy, WOLF (White Oak Legacy Foundation). What's a better way to preserve such timeless machines but to operate and to maintain them. And so they did, and so they are, and Proximity Manufacturing was founded in 2021, carrying on a legacy of excellence in denim production at the White Oak Plant for its third consecutive century.
Early 2022 I reached out to Proximity to see if they would be interested in partnering with us and weaving some denim for this little operation of ours. With some initial hesitations, I kept pressing and with persistence, Evan and the team welcomed STS as a select brand partner to produce some beautiful work cloth for, that would once again be woven on the floors of the White Oak Plant.
Last August, Proximity began weaving production yardage of a Stock Tank Supply proprietary selvedge denim. A 12.2 oz Loomstate denim, 3x1 Broken Twill, with a Canyon Blue Warp, a beautiful Royal "R'Oil Country" Blue Weft and finished with a classic Red Line selvedge ID. Truly incredible fabric and nothing like I've seen before.
That brings us to today, a new day. A day where we can look ahead and begin the next chapter. One to pay respect to our forebearers, one to show honor to such a storied American icon, and one to articulate that very homage into new garments giving a nod to those who've paved the way before us.
THE PATTERNS | EDMONTON, ALBERTA
Some call it the Gateway to the North, others may call it the City of Champions. Many claim it as Oil Country and a proud part of Treaty 6 Territory. A blue collar city, built upon the fur trade, real estate, manufacturing, refining and servicing the Northern half of Alberta. However, often forgotten or somehow not known at at all, Edmonton also has deep roots in garment manufacturing, the denim industry and was the home to a legendary Canadian made brand, the Great Western Garment Company, also known as GWG.
Operations began in 1911 in downtown Edmonton and spanned almost 100 years before eventually closing down the plant in 2004. Although GWG was acquired by the denim giant Levi's in 1961, the brand remained its own entity and with it, continued production of its wears. During its time, the company focused on Union Made workwear garments fit for those serving duty abroad, the labour force servicing miners, oil and gas workers, & railworkers, as well as the ranchers and farmers of the west. They made quality goods, with quality materials and built garments that stood the test of time, while standing proud with their slogan "They wear longer, because they're made stronger." 
As the true denim head I am and an advocate always ready to support my hometown, I wanted to create something reminiscent of this sometimes forgotten legend. Pay my respects to the work put in before me and lay the foundation as to what can lay ahead.
THE GARMENTS | LOS ANGELES, CALIFORNIA
With that, I'd like to introduce the first garments of our Hometown Homage collection. A two piece ensemble consisting of a 6 pocket trouser and a rugged waist coat, better known in the Great White North as a Canadian Tuxedo. Both pieces are partial reproductions of 1960s-70s GWG Cowboy Kings garments and were made with our own proprietary denim from Proximity Manufacturing made proudly right here in the City of Angels.
-
12.2 oz Proximity Mills "Loomstate" Selvedge Denim 
Canyon Blue Indigo Warp x R"Oil" Blue Weft
100% Cotton | 3x1 Broken Twill | Un-Sanforized |  Raw-Rigid-Unwashed
The Open Range | Kings Western Jacket
Classic Cowboy | Riding Jacket
Triple Needle Cabajo Inseam, Yoke & Shoulder
Front Panel Welt Pockets
Interior Utility Chest Pockets
Selvedge ID Plackets and Hanger Hoop
YKK Japan Brass Hardware
6oz Veg Tan STS Patch from Clo's General Co.
Batch of 40
Cut and Sewn in Los Angeles, California
2023
-
Homage | Vintage Straight Leg
Vintage Mid Rise | Straight Leg Cut
Button Fly, Tucked Belt Loops w/ Utility Loop, Utility Pocket
Triple Needle Cabajo Inseam, Yoke & Shoulder
Front Panel Welt Pockets
Interior Utility Chest Pockets
Selvedge ID Plackets and Hanger Hoop
YKK Japan Brass Hardware
6oz Veg Tan STS Patch from Clo's General Co.
Batch of 40
Cut and Sewn in Los Angeles, California
2023
-
We put a lot of time, effort and love into creating these works and we can only hope that you are as proud of this collection as we are. Thank you for your patronage. 

Much love. Much respect. 

The Arbours 
& Your Local
Stock Tank Supply & Co.